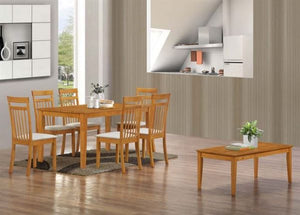 The crisp and modern Cynthia Dining Set will be the perfect addition to your dining space. Offering great value for money, the Cynthia boasts a varnished oak finish while the chairs feature a faux leather padded seat for added support.
Seating up to six, this set has all your dining needs catered for.
Also available as a table & 4 set.
TESTIMONIALS FROM OUR LOYAL CUSTOMERS
"It is always a pleasure dealing with PLFS, Emma always gets back to me quickly and has a lovely telephone manner. The drivers are always polite and get on with the job. I always know that when dealing with PLFS there wont be any issues which is great in a busy working environment"
"Thanks for the good work! I was really impressed by how helpful and quick this order was turned around. It was refreshing to deal with a company which is flexible, fast and professional throughout the ordering, delivery and setting process"
"Another job well done, those boys were here from 9am on the dot and didn't leave until 4.30pm only stopping for a drink, and they cleaned up after their work - Excellent workers"